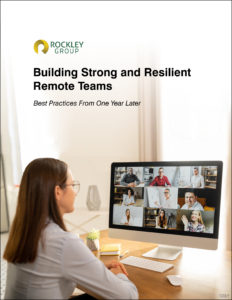 Do you manage a team that suddenly found themselves working from home a year ago? Much has changed, but much has not. As the world opens up some will return to an in-person office, while others will move to a hybrid home and office, or stay fully remote.

Companies like Google, Twitter, Facebook, Square and Shopify have announced that 50% or more will continue to work from home. And it's not just high tech, 74% of companies in the financial sector plan to permanently shift to more remote work.

The Rockley Group, internationally recognized for its work in intelligent content strategy, has worked behind the scenes helping to build corporate teams, grow and mentor existing staff, and hire people to fill the gaps and we've been doing all of this for 30+ years. We've written this eBook based on our experience working with remote teams.
In this eBook, we provide best practices that you can use to better manage your remote team to further increase productivity and reduce burnout, and to help you meet the challenges of managing teams in a remote world. In it you'll learn how to:
 Set expectations for optimum results
Motivate your staff from a distance
Encourage work-life-balance
Prevent meeting fatigue
Go beyond skill sets to build on your team's instinctual strengths

And More
Until April 16, 2021 if you download the eBook you can enter into a draw for a free Resilient Team Advantage from The Rockley Group. 
Download the Building Strong and Resilient Teams eBook.