The Intelligent Content Conference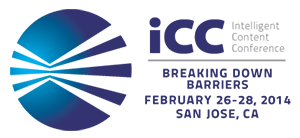 The sixth annual Intelligent Content Conference will take place February 26-28, 2014 in San Jose, California.
This years' focus is on "Breaking Down Barriers". The conference will showcase examples, standards, methods, strategies, and tools needed to deliver the right information, to the right people, at the right time, in the right language, and on the device of their choosing.
For complete details about the conference, including becoming an exhibitor, sponsor, presenter or attendee, visit the Intelligent Content Conference website.