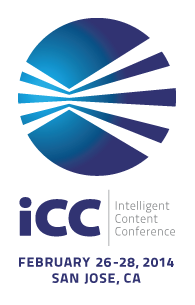 Breaking Down Barriers
The sixth annual Intelligent Content Conference will equip attendees with the knowledge they need to break down the barriers preventing them from connecting content with those who need it. The event will showcase examples, standards, methods, strategies, and tools needed to deliver the right information, to the right people, at the right time, in the right language, on any device.
Topics
Conference sessions are organized into tracks. Topics include: Content strategy, content marketing, digital publishing, content management, adaptive content, dynamic publishing, big data, eBooks, apps, mobile, content engineering, content reuse, translation and localization, information visualization, and structured authoring.
The Conference: February 27-28, 2014
The Intelligent Content Conference features knowledgeable and engaging speakers who will deliver two full days of presentations, case studies, and panel discussions. Software and services vendors will also be on hand to discuss the capabilities of their tools – and conduct product demonstrations –in our Technology Showcase.
Pre-Conference Workshops: February 26
For those who want to dive deeper, we've included a variety of half-day and full-day training workshops. They're more detailed than a typical presentation and designed to cover topics that require some focus to begin to master. Advance registration required. Laptops not required, but suggested for some courses. Students pay additional fee to attend. Seating is limited.
For complete details about the conference, including becoming an exhibitor, sponsor, presenter or attendee, visit the Intelligent Content Conference website.