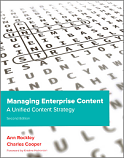 A complete rewrite of the seminal Managing Enterprise Content: A Unified Content Strategy text by The Rockley Group, this new edition builds on 10 years of real-world experience since the first edition.
Today users and readers expect to be able to have access to the information they want at any time, on any device. The second edition of Managing Enterprise Content shows how a Unified Content Strategy can help you deliver your content to your customers (wherever they are, no matter what device they are using) in a cost effective manner.
It's available in both a print version and an eBook version, both at Amazon.
"This book is destined to become the industry standard for implementing content management"
Judith L. Glick-Smith,
Amazon reviewer
For more information, see the Managing Enterprise Content book website.