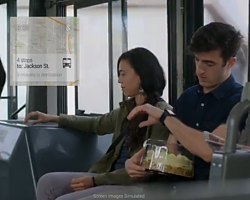 And I mean mobile in the real-world, carry it everywhere sense. Google has just announced that they're stepping up and expanding their reach into the mobile world. They've just announced something called "Android Wear" – their foray into wearable, location and context aware computing.
Not surprisingly, they're kicking it off with a watch.
At this point they're hitting all the standard points; information when you need it, health monitoring, multiscreen access. But they're also talking about voice command and connecting with standard Android (whatever those are) apps.
It sounds a bit like my Pebble watch, but on steroids.
But for me the interesting thing is that this is yet another validation that we need to consider all sorts of devices as 'mobile', not just phones and tablets. We need to remember that just about any device can be made mobile, and that our users will be expecting information on it.
That's not to say I expect to read an installation guide on my watch, but it does mean that my watch may provide the linkage between my information and me. It can provide notifications of new information, or ping me when I arrive at a specified location (and provide background or links to updated information relevant to that site). There are all sorts of things that our clients will be expecting, and we'll have to figure out how to provide.
I'm looking forward to it!
Image from Google Android Wear promotional video.