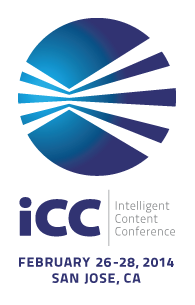 Thanks to everyone who attended our recent Intelligent Content Conference in San Jose. We're exhausted, but be had a great time along the way. We know you did too, both from conversations and looking at the twitter stream!
Andrew Nhem @andrewnhem Feb 27
Superbowl marketers should have sat in this morning's #icc2014 panel discussion, IMO.
Charlie Southwell @charliesaidthat Feb 28

The last session was awesome! thanks @LauraCreekmore #ICC2014 pic.twitter.com/AKsIksLtg9
Danielle M. Villegas @TechCommGeekMom Feb 28
#ICC2014 @ProfessorOlsen Really great talk. I'm inspired! This is why I'm in #techcomm and #elearning / #mlearning !
Kate Johnson @katedjohnson Feb 28
In the #icc2014 closing keynote. Best. Keynote. Ever.
If you're looking for the slide presentations, you can find them here. Not all of them are currently there, but we're working with the various presenters to get and post them.
Thanks again all! See you next February at the seventh ICC, or in May for the first Intelligent Content Conference on Life Sciences and Healthcare.