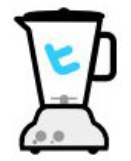 Apparently I was a bit hasty in describing TweetBlender as being abandoned by its author. He has abandoned the support forum on WordPress, but has moved support to Facebook.
He's in the process of reworking TweetBlender to accommodate Twitter's API changes, so it should be up and running here (and many other places) soon.
In my professional opinion – yay!